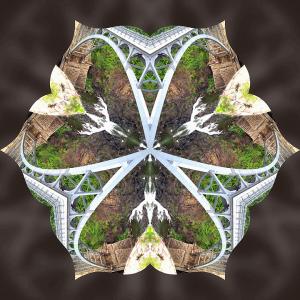 I am writing this post after a few weeks of reviewing many different discussion boards found on FineArtAmerica.com.

When it comes to being called an Artist, I feel that only those who create with their hands should be considered Artists. But it seems that many "Photographers" like to be considered Artists as well, when they are not. Traveling to a location with your camera and taking a picture is not creating Art. Photographers merely capture the creations of others (or nature) and literally create nothing themselves. Those of us who use our hands and minds to create 'something out of nothing' are the true artists here on Earth.

While I agree that it takes time, patience and a good eye for perspective to capture great photographs, in no way do Photographers create anything of their own. For example, thousands (if not millions) of people have taken photographs of Mount Rushmore... but only the Artists that used their hands to carve the mountain can be considered Artists. I feel that Photographers should not consider themselves Artists unless they are using their hands and/or digital means to manipulate their images into something "original and new."

If a Photographer is merely taking a picture of something that already exists, and that was created by someone else, they haven't created anything of their own. Artists create something out of nothing, Photographers recycle what others have already created. There's a good reason why Photographers haven't been completely accepted by the World Art community... they are not creators. Photographers are closer to being Artistic Journalists than they are to being Creative Artists. There is nothing uniquely creative about taking a picture of a bridge, building, beach, bird, etc... Yes, the Earth is an Artistic Masterpiece, but photographers are merely exploiting that fact for their own self interest and self gain.

I truly love and appreciate all the beautiful photographs I've seen over the years, but I've never considered a Photographer to be an Artist. Anyone can push a button on an expensive camera, but not everyone can draw, paint or sculpt with their hands... and that's what truly separates Artists from Photographers.